Medallion
Basic Information
Type
Item
Durability
N/A
Renewable
Yes
Stackable
Yes (64)
Name
medallion
History
First appearance
v2.10.3
Medallions are items that can be used to rename tamed Mo' Creatures mobs.
Obtaining
Edit
Kitties and big catsEdit
Tamed kitties and big cats will drop a medallion upon death.
Crafting Edit
| Ingredients | Crafting recipe |
| --- | --- |
| Leather + Gold Ingot | |
| Leather + Gold Ingots + Diamond | |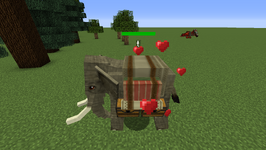 A medallion can be used to rename tamed mobs and to tame big cats and kitties. They are also used to craft an elephant garment.
When the player has renamed a mob with a medallion, they are not consumed upon using them. They are only used when taming a big cat or kitty. Also, when a medallion has been used to name a creature, it will display love hearts.
Crafting ingredient Edit
| Ingredients | Crafting recipe |
| --- | --- |
| Blue Wool + Red Wool + Yellow Wool + Dandelion Yellow + Pink Dye + Medallion | |
Raw materials:
Big Cat Claw •
Chitin •
Fur •
Hide •
Reptile Hide •
Heart of Darkness •
Heart of Fire •
Heart of Undead •
Scorpion Sting •
Shark Teeth •
Unicorn Horn
Food:
Cooked Crab •
Cooked Ostrich •
Cooked Rat •
Cooked Turkey •
Egg •
Omelet •
Rat Burger
Raw Crab •
Raw Turkey •
Raw Ostrich •
Raw Rat •
Raw Turtle •
Sugar Lump •
Turtle Soup
Tools:
Builder Hammer •
Fish Net •
Teleport Staff •
Whip •
Wyvern Portal Staff
Armor:
Crystal Mount Armor •
Fur Armor •
Hide Armor •
Reptile Armor •
Scorpion Armor •
Silver Skeleton Armor
Weapons:
Bo •
Katana •
Nunchaku •
Sai •
Scorpion Sword •
Shark Sword •
Silver Sword
Manufactured:
Bone Amulet •
Crafted Saddle •
Elephant Chest •
Elephant Garment •
Elephant Harness •
Elephant Howdah •
Essence of Darkness •
Essence of Fire •
Essence of Light •
Essence of Undead •
Fairy Amulet •
Ghost Amulet •
Kitty Bed •
Litter Box •
Mammoth Platform •

Medallion •
Pet Amulet •
Pet Food •
Tusks •
Sky Amulet •
Scroll of Sale •

Scroll of Freedom •
Wool Ball •
Zebra Record
Multiplayer only:
Scroll of Reset Owner
Removed:
Fish Bowl •
Key •
Rope
Unused:
Creaturepedia •
Nether Cannon