Essence of Fire





Type
Manufactured items
Durability
N/A
Renewable
Yes
Stackable
Yes (64)
First appearances
See History
An essence of fire is an item with multiple effects on mobs.
Obtaining
Edit
Crafting Edit
Name
Ingredients
Crafting Recipe

Essence of Fire

Blaze Powder +
Heart of Fire +
Glass Bottle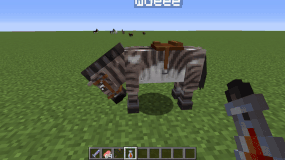 Like the other essences, an essence of fire can have various effects when used on a certain mob. After the essence has been used, you will get a glass bottle in return.
After a mob has been fed the essence, it will apply the following effect:
A tamed zorse will turn into a nightmare, a fire-proof horse.
A nightmare's health will be restored if it's health is low.
A tamed ostrich will be turned into a nether ostrich, a fire-proof ostrich. Like wyvern ostriches, nether ostriches can fly, but it's quite difficult to achieve. You need to press the jump control in a timely fashion to be able to control it. The way they fly is inspired by the game Joust. 
Crafting ingredient Edit
Name
Ingredients
Crafting Recipe
Essence of Undead +
Essence of Fire +
Essence of Darkness
Version
- Added essences.
Items
Raw materials

BigCat Claw • Chitin • Fur • Hide • Reptile Hide • Heart of Darkness •
Heart of Fire • Heart of Undead • Scorpion Sting • Shark Teeth • Unicorn Horn

Food

Raw Crab ( Cooked) • Raw Ostrich ( Cooked) • Raw Rat ( Cooked) •
Raw Turkey ( Cooked) • Egg • Omelet • Rat Burger • Raw Turtle •
Sugar Lump • Turtle Soup

Tools

Builder Hammer • Fish Net • Teleport Staff • Whip • Wyvern Portal Staff

Combat

Bo • Crystal Mount Armor • Fur Armor • Hide Armor • Katana • Nunchaku • Reptile Armor • Sai •
Scorpion Armor • Scorpion Sword • Silver Sword Shark Sword

Manufactured

Bone Amulet • Crafted Saddle • Elephant Chest • Elephant Garment •
Elephant Harness • Elephant Howdah • Essence of Darkness • Essence of Fire • Essence of Light • Essence of Undead • Fairy Amulet • Ghost Amulet •
Kitty Bed • Litter Box • Mammoth Platform • Medallion • Pet Amulet •
Pet Food • Tusks • Sky Amulet • Scroll of Freedom •
Wool Ball • Zebra Record

Multiplayer only
Unused
Removed

Fish Bowl • Horse Armor • Key • Rope