Ad blocker interference detected!
Wikia is a free-to-use site that makes money from advertising. We have a modified experience for viewers using ad blockers

Wikia is not accessible if you've made further modifications. Remove the custom ad blocker rule(s) and the page will load as expected.
Elephant Harness





Type
Utility
Durability
N/A
Renewable
Yes
Stackable
Yes (64)
ID Name
elephantharness
An elephant harness is an item that can be placed on tamed elephants or mammoths so they can be ridden.
Obtaining
Edit
Crafting Edit
Ingredients
Crafting recipe
Hide +
Wool +
Iron Ingots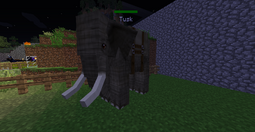 An elephant harness can be used to ride tamed elephants and mammoths.
Right-clicking on the elephant or mammoth will equip the harness, but the player has to sneak next to the elephant or mammoth before he/she can ride it. Upon doing so, the elephant or mammoth will crouch, enabling the player to ride it. The harness can be retrieved by right-clicking on the elephant or mammoth with shears, placing the mob in a pet amulet, or killing the elephant/mammoth.
Other than for riding elephants or mammoths, the harness also allows extra items to be added. These include an elephant howdah, an elephant garment (an item used exclusively for Asian elephants), a mammoth platform (for Songhua River mammoths), and an elephant chest.
Raw materials:
Big Cat Claw •

Chitin •

Fur •

Hide •
Reptile Hide •

Heart of Darkness •
Heart of Fire •

Heart of Undead •

Scorpion Sting •

Shark Teeth •

Unicorn Horn
Food:

Cooked Crab •

Cooked Ostrich •

Cooked Rat •

Cooked Turkey •

Egg •

Omelet •

Rat Burger
Raw Crab •

Raw Turkey •

Raw Ostrich •

Raw Rat •

Raw Turtle •

Sugar Lump •

Turtle Soup
Tools:

Builder Hammer •

Fish Net •

Teleport Staff •

Whip •

Wyvern Portal Staff
Armor:
Crystal Mount Armor •

Fur Armor •

Hide Armor •

Reptile Armor •
Scorpion Armor •
Weapons:

Bo •

Katana •

Nunchaku •

Sai •

Scorpion Sword •

Shark Sword •

Silver Sword
Manufactured:
Bone Amulet •

Crafted Saddle •
Elephant Chest •

Elephant Garment •

Elephant Harness •

Elephant Howdah •

Essence of Darkness •

Essence of Fire •

Essence of Light •

Essence of Undead •

Fairy Amulet •

Ghost Amulet •

Kitty Bed •

Litter Box •

Mammoth Platform •

Medallion •

Pet Amulet •

Pet Food •

Tusks •

Sky Amulet •

Scroll of Sale •

Scroll of Freedom •

Wool Ball •
Zebra Record
Multiplayer only:
Scroll of Reset Owner
Removed: 16px Fish Bowl •
Horse Armor •
Key •

Rope
Unused:

Creaturepedia •

Nether Cannon